Description
To match Administrator, Service, and End User Accounts that have been imported from Active Directory, Office 365, or Local accounts to Hudu password entries.
Process
Once Administrator, Service Accounts, and End User Accounts have been imported into Quickpass (see this article if you have not imported your accounts), you can link them to Hudu password entries. Note: The screenshots below are from the End-User Accounts screens, however the process for Service Accounts and Administrator Accounts is identical (simply ensure you start the process within the Dashboard section you are trying to link to Hudu).
Linking End User Accounts, to Hudu, is not required and will depend on your need to store End User password entries in IT Glue.
1. Click the MATCH ACCOUNTS button in the appropriate screen.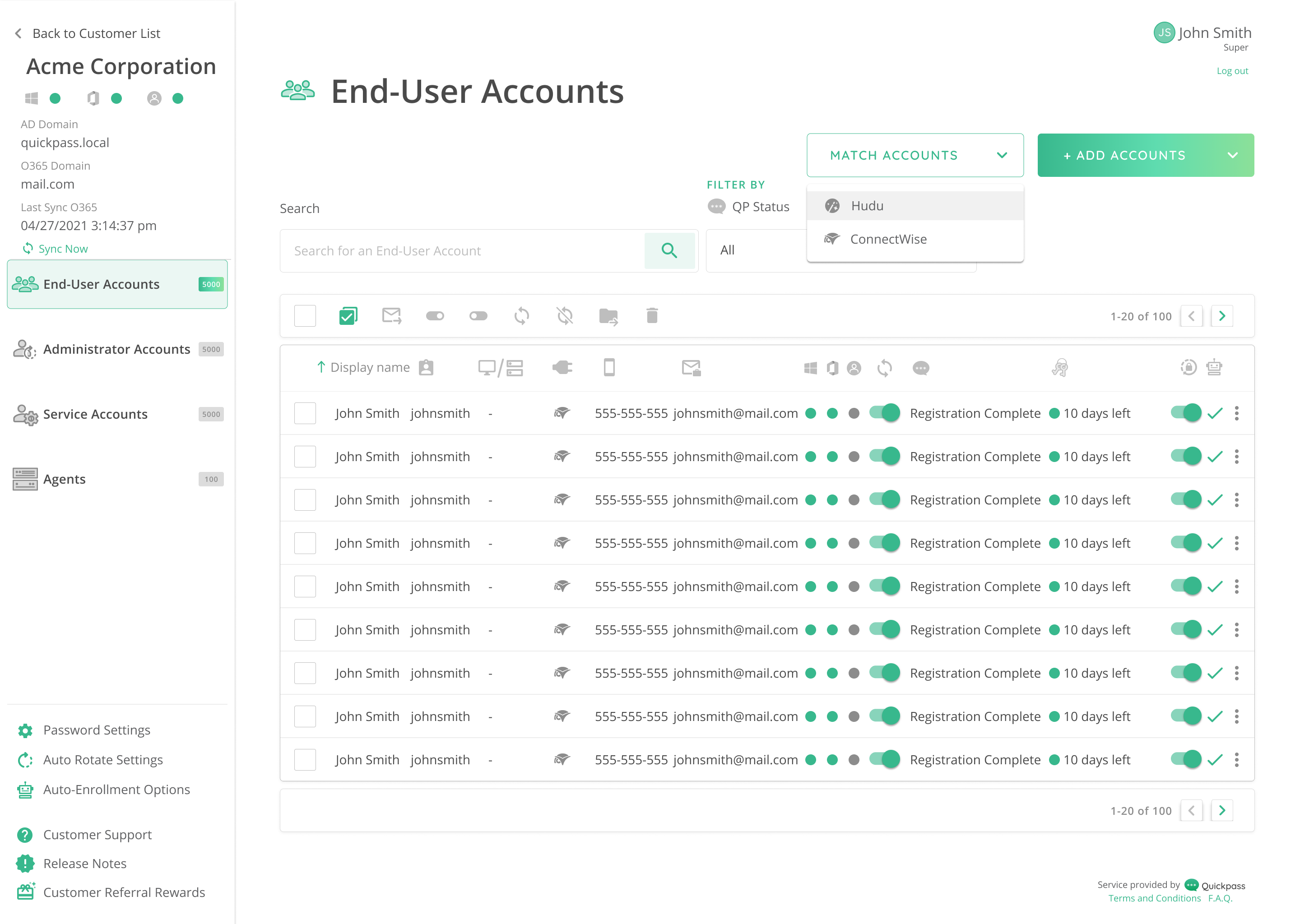 2. In the Match Accounts screen you have two options to match a Quickpass account to an Hudu password entry.
Manually Match
Drag the Hudu password entry on the left-hand side to the corresponding Quickpass Account on the right-hand side. The entry will turn green in the Hudu Password Entry column.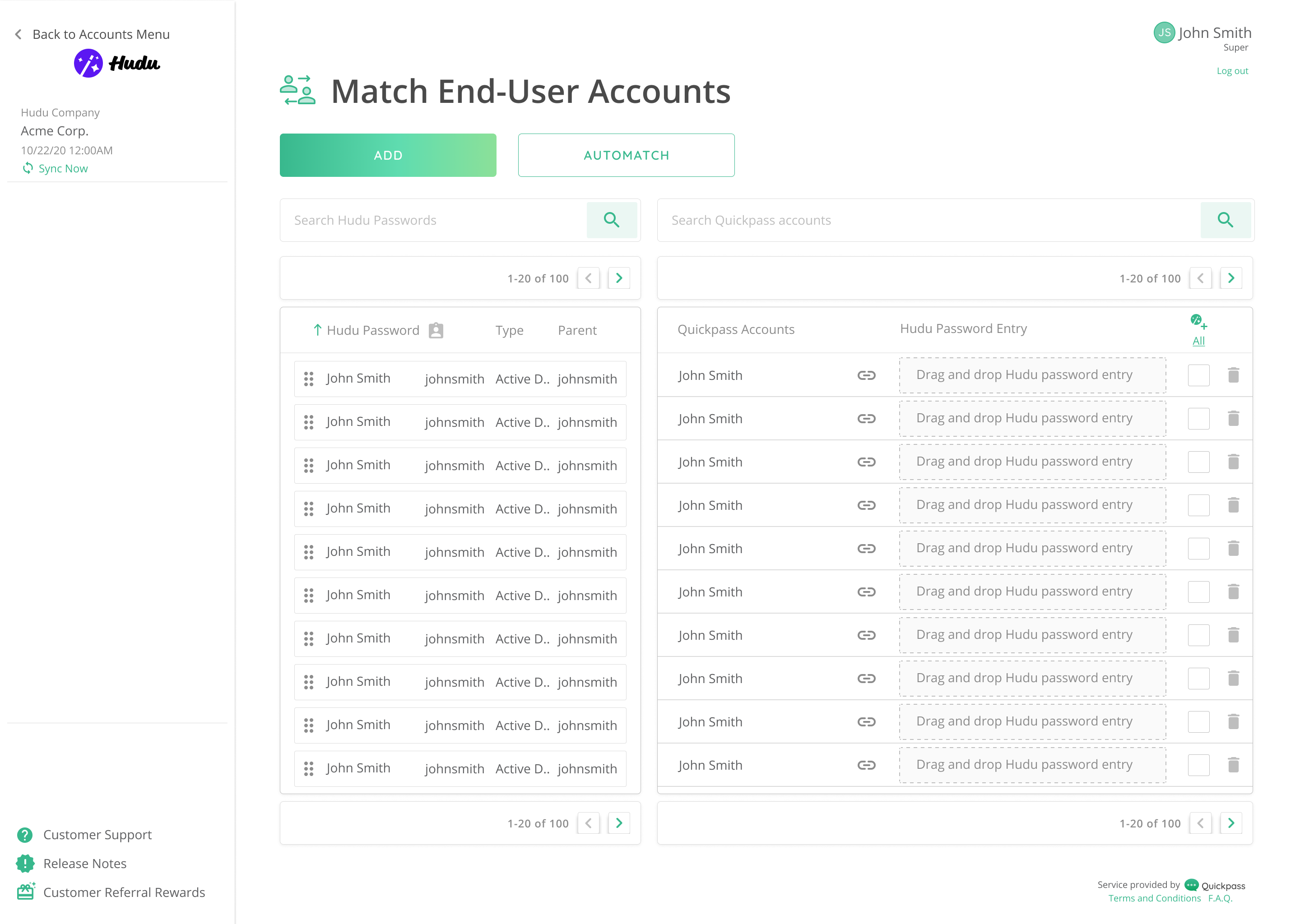 Click the Add button at the top left to confirm the match.
Create Hudu Password Entry
If the Hudu password entry does not currently exist, you have the option for Quickpass to automatically create the password entries for you. To do this click the check boxes to the right of the Quickpass Accounts listed in the table or clicking the All button to select all. Then click the ADD button when done.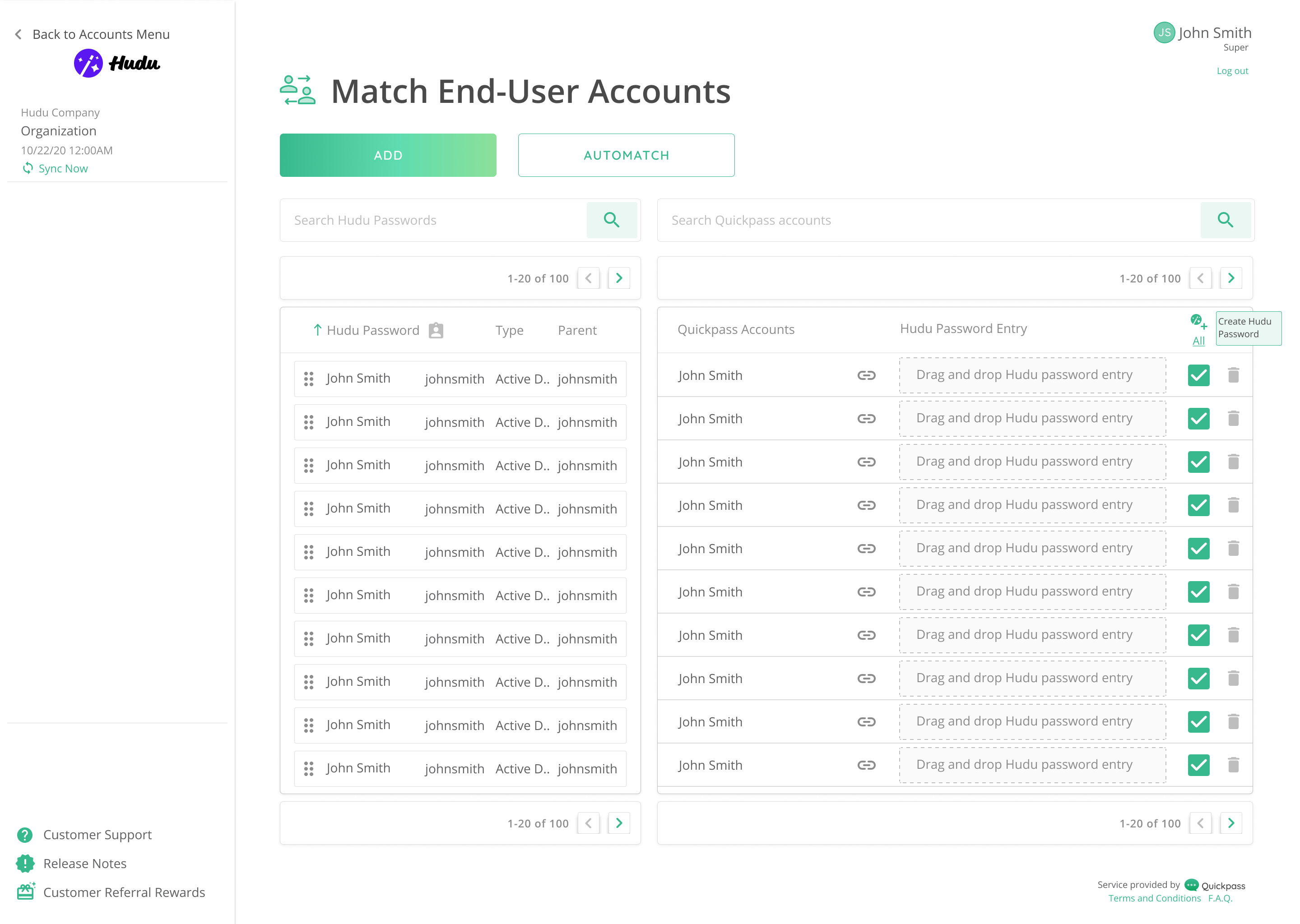 3. Back in the Accounts screen you will notice the Hudu icon under the Integration column showing that the account is connected to an Hudu password entry.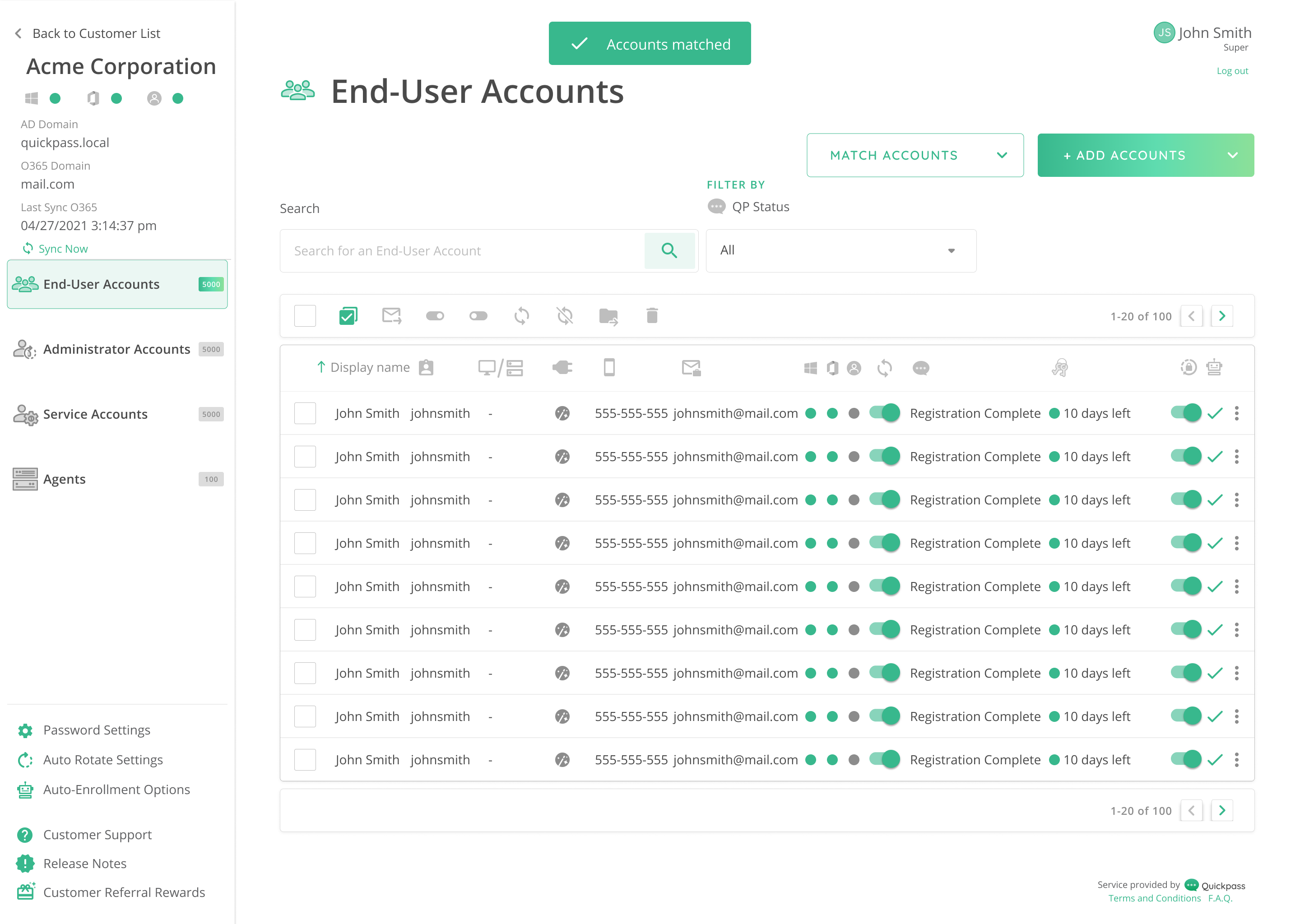 Next Steps:
Setup Scheduled Password Rotation of
Administrator Accounts
https://support.getquickpass.com/hc/en-us/articles/360038042153-How-to-Setup-Scheduled-Password-Rotation-of-Administrator-Accounts
Setup Scheduled Password Rotation of
Service Accounts
https://support.getquickpass.com/hc/en-us/articles/360052090173-How-to-Setup-Scheduled-Password-Rotation-of-Service-Accounts
Rotate Administrator Account Passwords On-Demand
https://support.getquickpass.com/hc/en-us/articles/360039179834-How-to-Rotate-Administrator-Account-Passwords-On-Demand
Resetting Matched Account Passwords in
Quickpass
https://support.getquickpass.com/hc/en-us/articles/1500011628061-Manually-Resetting-Matched-Account-Passwords-in-Quickpass
Importing Local Accounts to Password Entries
https://support.getquickpass.com/hc/en-us/articles/360060705934-How-to-Import-Local-Accounts
Creating Hudu Computer Assets Account Password Entries
https://support.getquickpass.com/hc/en-us/articles/4408845667863-Create-Hudu-Computer-Asset-Account-Password-entries-for-Local-Accounts