Prerequisites
Match Connectwise Contacts with Quickpass Accounts
1. Navigate to the Quickpass Customer that you have already matched with a Connectwise company and click to open.

2. Select the End-User Accounts menu on the left hand side.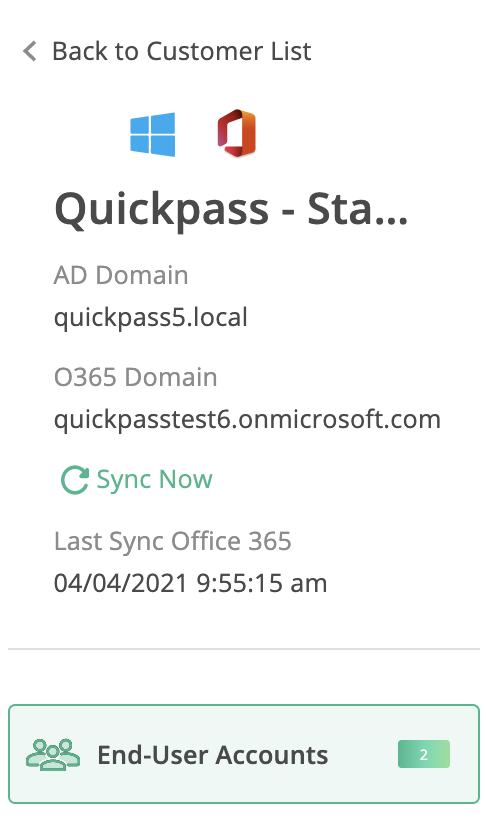 3. Click the down arrow in the Match Accounts button and select ConnectWise from the sub-menu.

Option 1 - Auto Match Connectwise Contacts
4a. In the Match End-User Accounts screen click the AUTOMATCH button.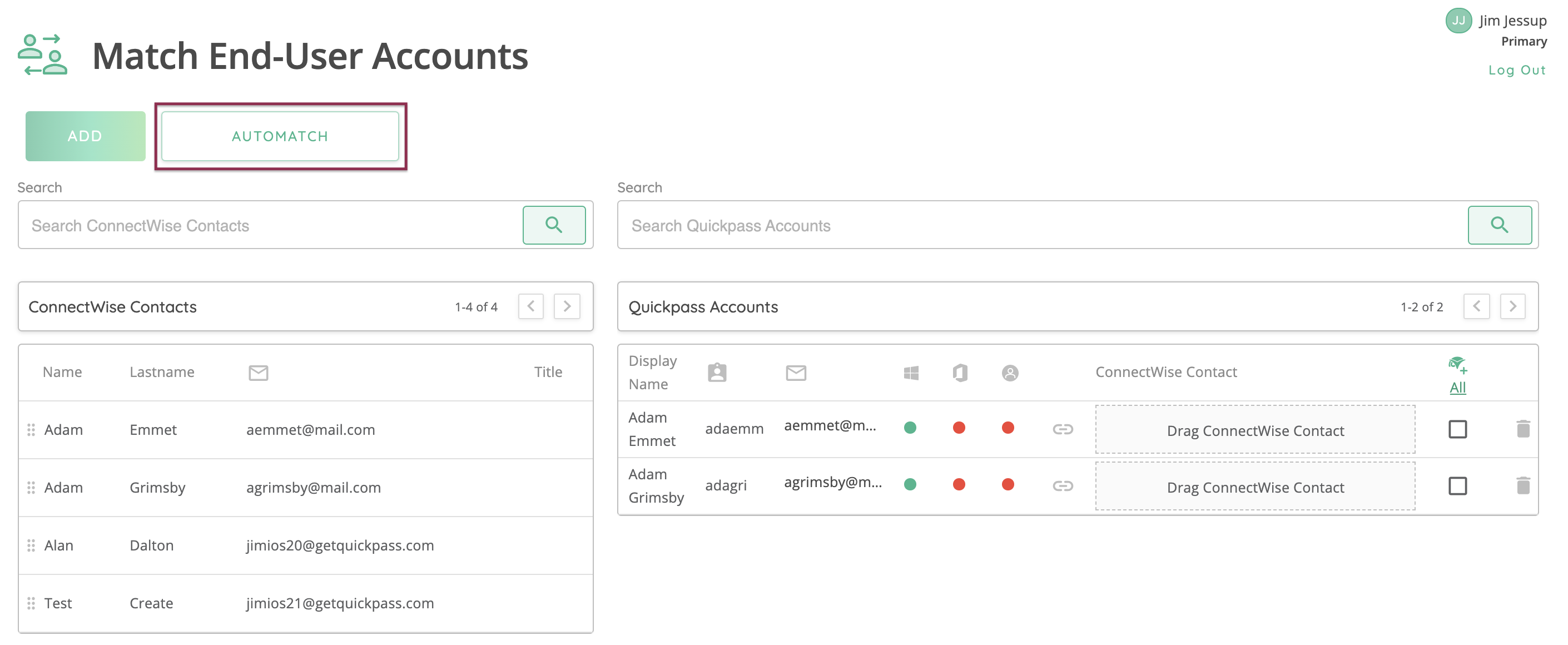 Note
Auto Match Criteria: Quickpass will search by Email Address first. If no email matches, Quickpass will search by First and Last Name.
No Matches: If there are no matches found you will receive a warning message stating "No Matches Found"
4b. In the Auto Match results screen either click the Select All check box to select all results or individually check the accounts you wish to match then click the ADD button at the top when done.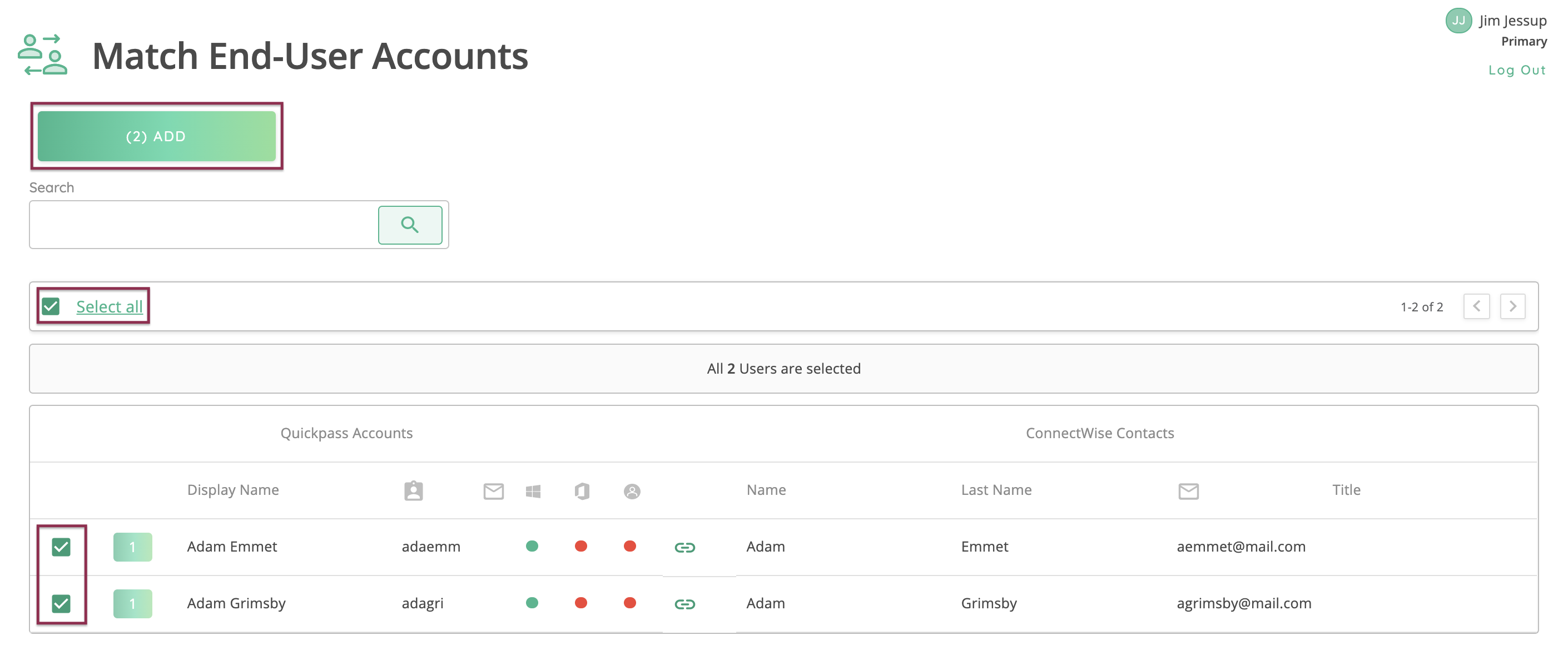 Option 2 - Manually Match Connectwise Contacts
4. In the Match End-User Accounts screen locate the Connectwise contact you wish to match with the Quickpass account in the left hand side table. Once found drag the Connectwise contact to the matching Quickpass account on the right hand side. When done with all your matches click the ADD button at the top left.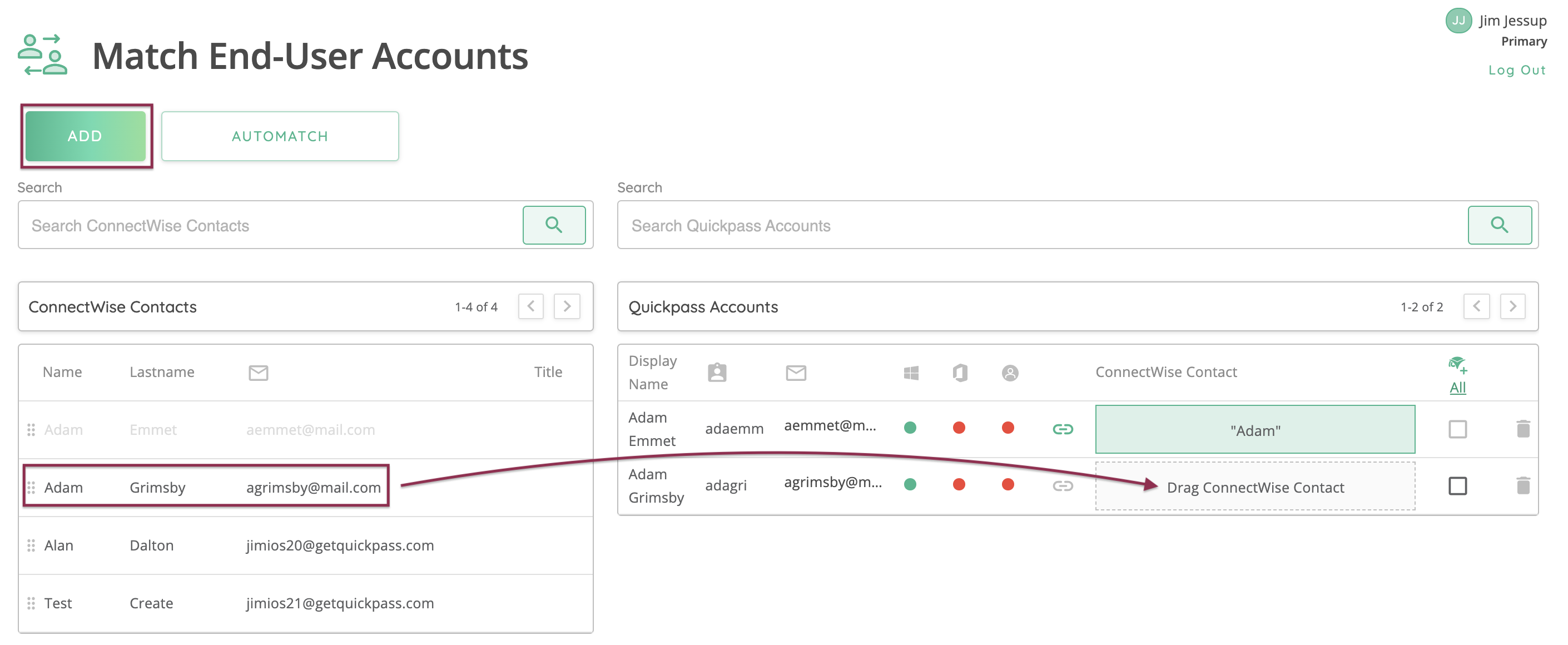 Option 3 - Create Connectwise Contacts
4. In the Match End-User Accounts screen click the check boxes to the right of each account that you wish to create a Connectwise Contact from or click the All link below the Connectwise logo. Then click the ADD button at the top left to finish.

Note
Email Address: Make sure you at least have the email address for the Quickpass account filled in so the email address field gets populated in Connectwise. The email address is how Quickpass identifies Quickpass accounts from Connectwise contacts in service tickets.
Mobile Phone Number: Quickpass will also populate the mobile phone number listed for the Quickpass account and populate the same field in the Connectwise contact. If you wish the phone number to be populated in Connectwise be sure to have the number populated before you create the Connectwise Contact from Quickpass.
5. After Connectwise Contacts are matched with Quickpass accounts you will see a Connectwise icon in the integrations column.

Troubleshooting Matching or Contact Creation
ConnectWise has changed some of the Table Values during their updates. If you are having troubles with matching or values not populating these tips might help you get better matching results.
Cell vs Mobile

Some versions of Connectwise use the term "Cell" instead of "Mobile". Quickpass is looking for the value "Mobile" when creating Connectwise Contacts. If you notice that accounts created in Connectwise, by Quickpass, are missing that value, you can adjust the Communication Type values in Connectwise to use the term "Mobile" instead.

Click System -> Setup Tables
Select the Contacts Category and click Search
Click the Communication Type Table.
Check to see if one of the Values there is labelled "Cell" or "Mobile"

If there is no "Mobile" value click on the "Cell" value.
Change the Description Value from Cell to Mobile (ensure no leading or trailing spaces)
Click Save

Email - Work vs Email

Some versions of Connectwise use the term "Email - Work" instead of "Email". Quickpass is looking for the value "Email" when creating Connectwise Contacts. If you notice that accounts created in Connectwise are failing to match to your existing ConnectWise Contacts, you can adjust the Communication Type values in Connectwise to use the term "Email" instead.

Click System -> Setup Tables
Select the Contacts Category and click Search
Click the Communication Type Table.
Check to see if one of the Values there is labelled "Email - Work" or "Email"

If there is no "Email" value click on the "Email - Work" value.
Change the Description Value from Email - Work to Email (ensure no leading or trailing spaces)
Click Save
Next Steps