Prerequisites
Add Quickpass POD to ConnectWise Manage Service Ticket
1. In ConnectWise Manage open an existing or new service ticket.
2. In the service ticket window click the + sign in the "Drag a pod here or click to add a pod" section, or click the Screen Layout (Gear icon) in the top left and select Pod Configuration.

3. In the Pod Configuration window locate and select the Pod named Quickpass Integration, click the arrow to add to your ConnectWise Service ticket and then click Save when done.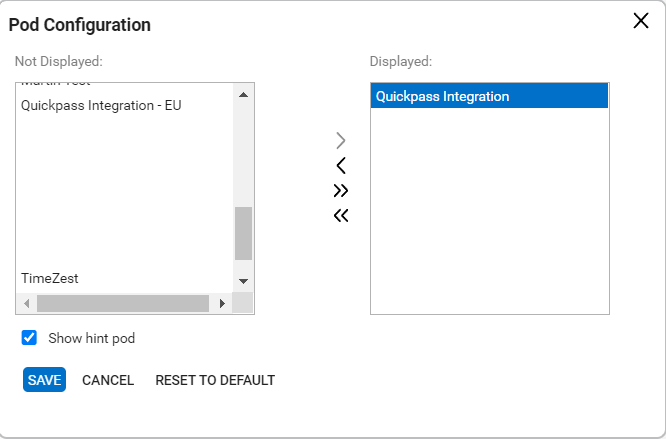 NOTE: If the Quickpass Integration Pod is not Displayed on the left side of the Panel, please click this link to recreate it - https://support.getquickpass.com/hc/en-us/articles/4412274088855-Recreating-the-ConnectWise-POD
4. The Quickpass integration pod will now show within the ConnectWise Manage ticket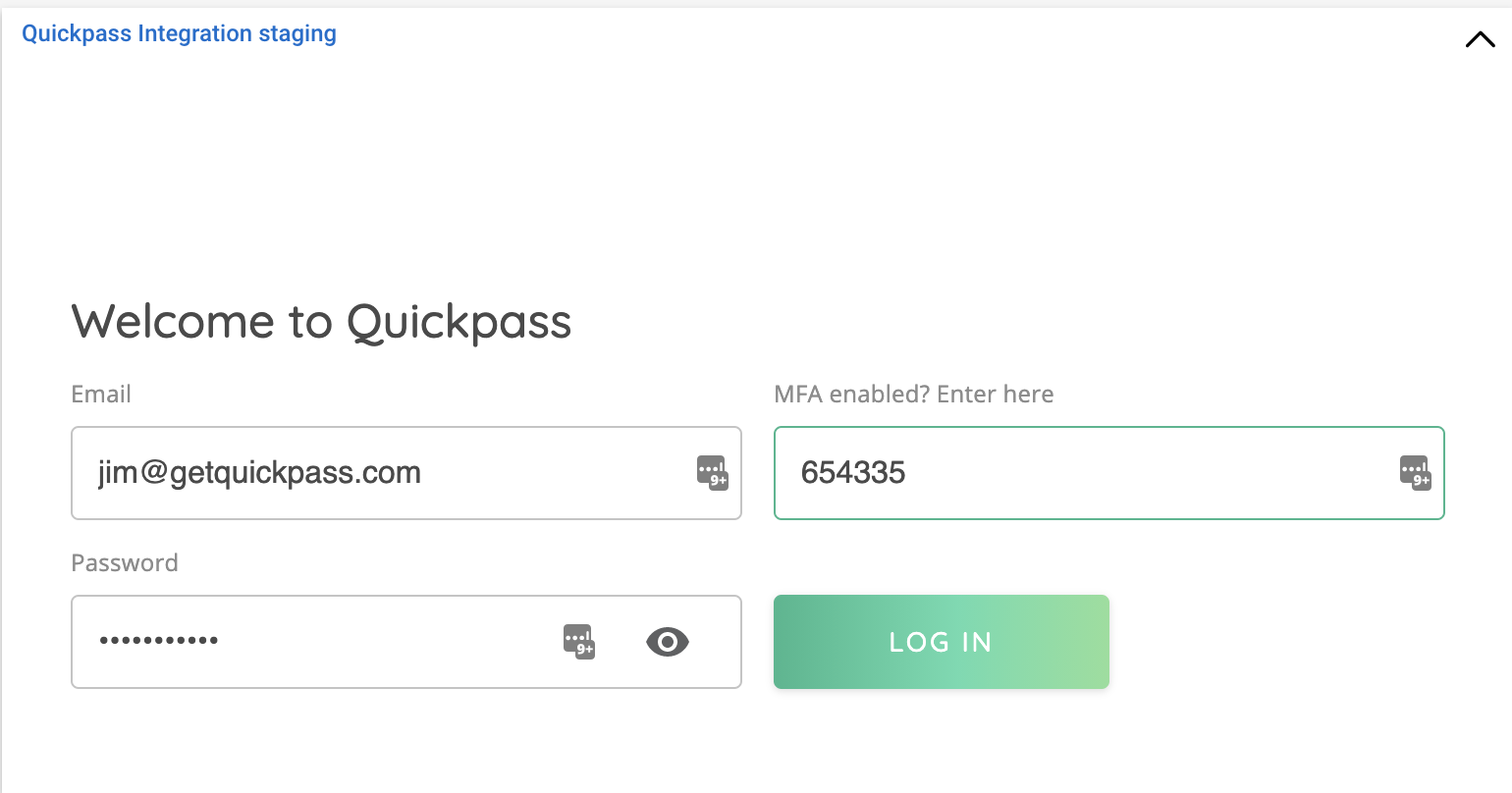 Note
Logins to Quickpass: Each technician that needs to use the Quickpass integration will need a login account setup in Quickpass.
Pod Login on Browser without SSO: If the technician who accesses the Quickpass Pod is already logged into Quickpass in another browser tab they will not need to login again. Conversely, if the technician has not logged into Quickpass in their browser they will need to login within the service ticket pod. This will also log the technician into the Quickpass Dashboard should they open it in a new tab within the same session.
Pod Login on Desktop Client without SSO: If the technician who accesses the Quickpass Pod is using the Desktop client they will need to login with the Quickpass Login information to see the service ticket pod details.
Pod Login on Desktop Client or Web Browser with SSO Enabled: If the technician who accesses the Quickpass Pod is using SSO to sign into Quickpass, and they have not logged into the Quickpass Dashboard already, they should click Log in with SSO.



The technician will be taken directly to the SSO login screen for Quickpass.

Enter the email address used to sign into the Quickpass Dashboard
They will then be taken to the SSO Login screen that matches your SSO provider. (This example is using Duo) - The technician logs into the SSO provider and follows your defined SSO authentication process

Once the SSO authentication process is accepted, the ConnectWise POD will be shown

5. Once the technician is logged into Quickpass the End-User account info for the person from the Service ticket will automatically load in the Pod window.

Note: In order for the Quickpass account info to show in the ConnectWise Pod the end-user account that submitted the service ticket must be matched to the Quickpass end-user account.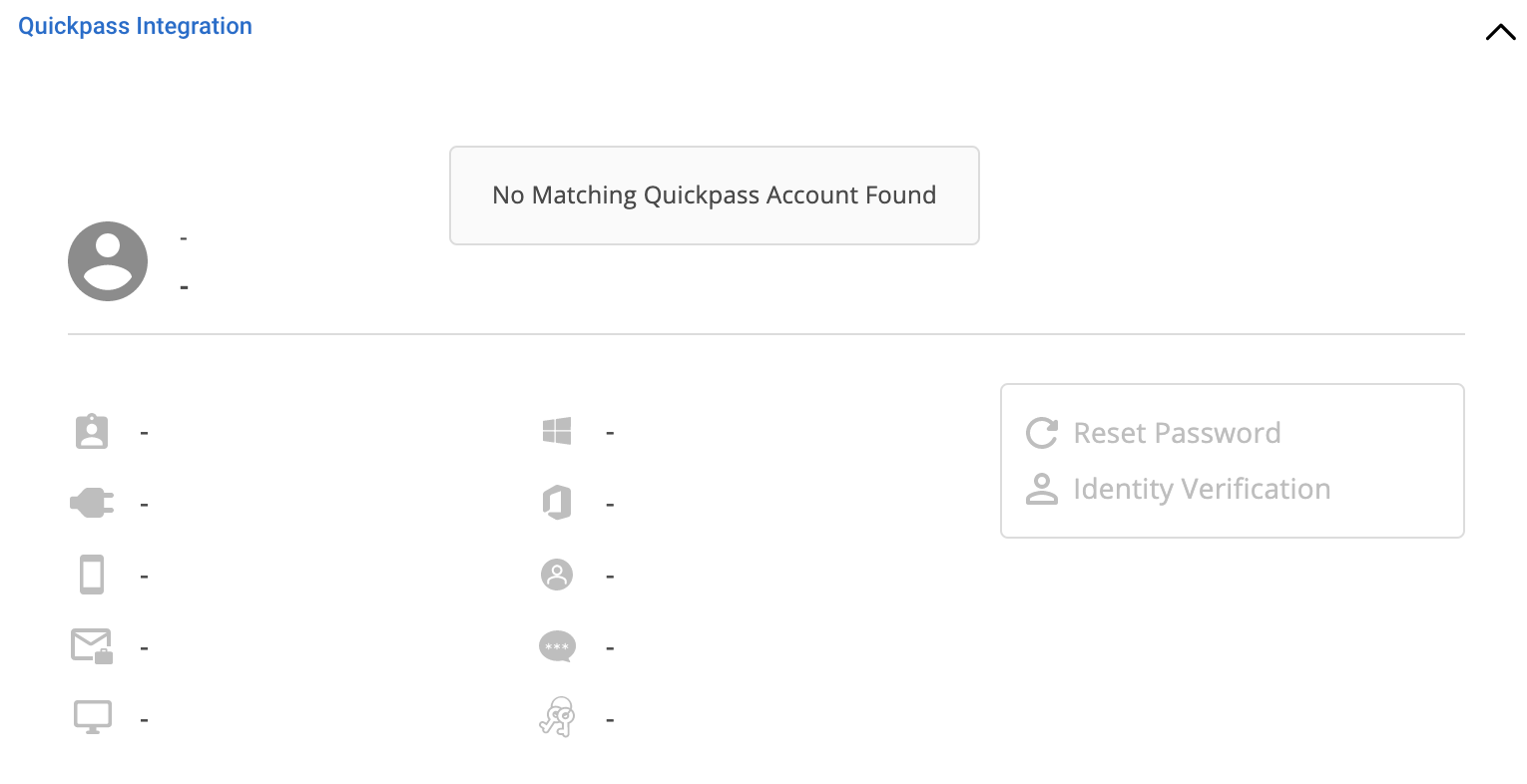 Next Steps