Prerequisites
Match Autotask Contacts with Quickpass Accounts
1. Navigate to the Quickpass Customer that you have already matched with a Autotask company and click to open.

2. Select the End-User Accounts menu on the left hand side.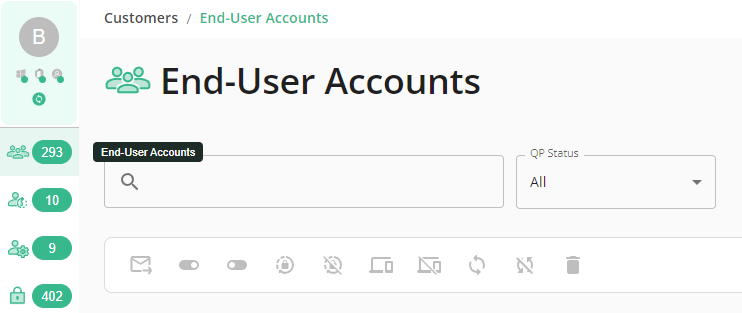 3. Click the down arrow in the Match Accounts button and select Datto Autotask from the sub-menu.

Option 1 - Auto Match Autotask Contacts
Line items with the 3 star icon have been automatically matched with their respective Autotask Contact. For these, you simply need to click Save to lock in them in.

Note
Auto Match Criteria: Quickpass will search by Email Address first. If no email matches, Quickpass will search by First and Last Name.
No Matches: If there are no matches found you will need to proceed to Option 2
Option 2 - Manually Match Autotask Contacts
If an automatic match is not found, you can manually match the contact by clicking Match with Datto Contact.

Select the appropriate contact from the list, and then click Select.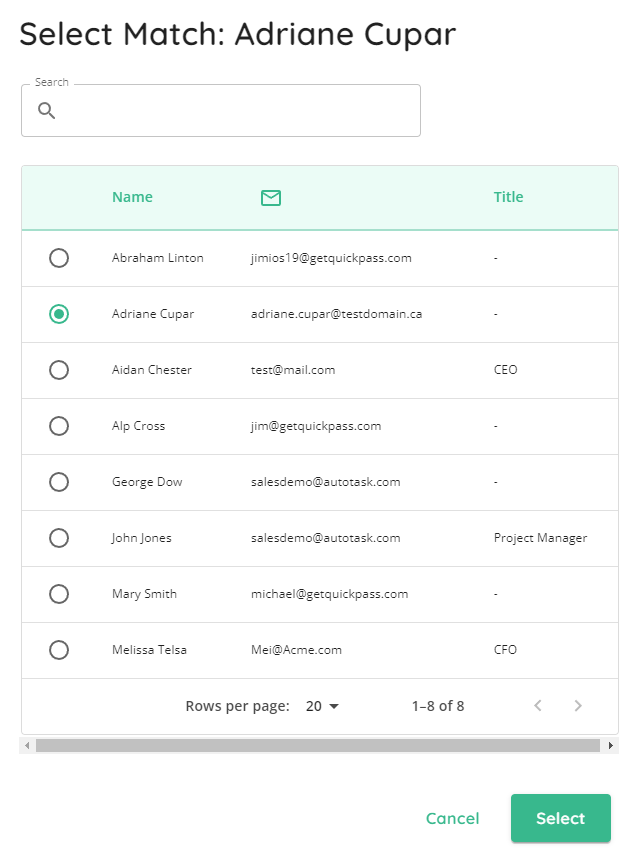 Click Save to save your changes.

Option 3 - Create Autotask Contacts
4. In the Match End-User Accounts screen click the check boxes to the right of each account that you wish to create an Autotask Contact from or click the All link below the Autotask logo. Then click the Save button at the top right to finish.

Note
Email Address: Make sure you at least have the email address for the Quickpass account filled in so the email address field gets populated in Autotask. The email address is how Quickpass identifies Quickpass accounts from Autotask contacts in service tickets.
Mobile Phone Number: Quickpass will also populate the mobile phone number listed for the Quickpass account and populate the same field in the Autotask contact. If you wish the phone number to be populated in Autotask be sure to have the number populated before you create the Autotask Contact from Quickpass.
5. After Autotask Contacts are matched with Quickpass accounts you will see a Autotask icon in the integrations column.