Concept
With the introduction of Just In Time and Privileged Identity Management accounts, using a Global Administrator account to manage Azure/Entra is no longer recommended.
As per Microsoft's KB, it is advised to secure a Global Administrator account (or multiple) for Emergency Access use only.
To facilitate this, CyberQP is providing this KB Article to outline a method to ensure that the Emergency Access Account password remains unchanged by Quickpass.
Prerequisites
Implementation
Log into the Management Portal
Azure Portal
Entra Admin Center

Click Microsoft Entra ID

Expand the Identity -> Roles and Admins Section


Select Administrative Units

Select Admin Units

Click Add

Enter a Name and Description that is Appropriate

Ensure that the "Restricted management administrative unit" Toggle is set to YES


On the Assign Roles screen you can leave the Defaults

Once you have confirmed everything is correct click Create
Denying access to the Emergency Access Accounts
With this configuration you are explicitly DENYING Quickpass from accessing the Emergency Access Accounts. Quickpass will NOT be able to rotate the passwords for these accounts, keeping with Microsoft's direction.
Click on the newly created Administrative Unit
Click Add Member at the top of the screen
Search for any account(s) you wish to exclude from rotation by Quickpass.
Put the check mark in the Box to add the account and then repeat until all accounts have been added.

Once all accounts you want to exclude have been added, click Select

The account(s) in the list will no longer be able to be managed by the Quickpass Enterprise App
All accounts NOT in the list will still be able to be accessed by the Quickpass Enterprise App.
NOTE: Because the account(s) attributes that you have added to this Administrative Unit can still be READ by the Quickpass Enterprise app, they will still get imported if you have Automatic Import configured by Azure/Entra Role. We recommend turning OFF the Automatic rotation toggle for these accounts to avoid errors on each rotation cycle.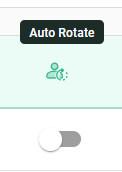 If someone were to attempt to change the password or rotate that account's password using Quickpass, the following error will be displayed.