Follow the 3 steps below to start using ConnectWise Control integration
Enable ConnectWise Control integration on the Quickpass admin dashboard
Install Quickpass extension from the ConnectWise Control marketplace
Download and install the Quickpass desktop app
Step 1: Enable CW Control integration on the Quickpass admin dashboard

Note: you will need Super or Manager access to enable the integration on the Quickpass dashboard
Log into the Quickpass dashboard at https://admin.getquickpass.com (North American Datacenter) or https://eu-admin.getquickpass.com (Europe Datacenter) with either the primary or super login role.
Click the Integrations menu on the left-hand side.

In the Integrations menu click the Connectwise Control card.


Populate the Connectwise Control URL and click Connect.
This is your Screenconnect portal URL and may look something like https://yourcompanyname.screenconnect.com/


Once successfully integrated, the Connectwise Control Logo box will appear with a green dot in the top left corner.


Step 2: Install the Quickpass extension from the ConnectWise Control marketplace
Navigate to Admin > Integration on your Screenconnect.com portal
Find Quickpass Cybersecurity Integration from the list of extensions and click install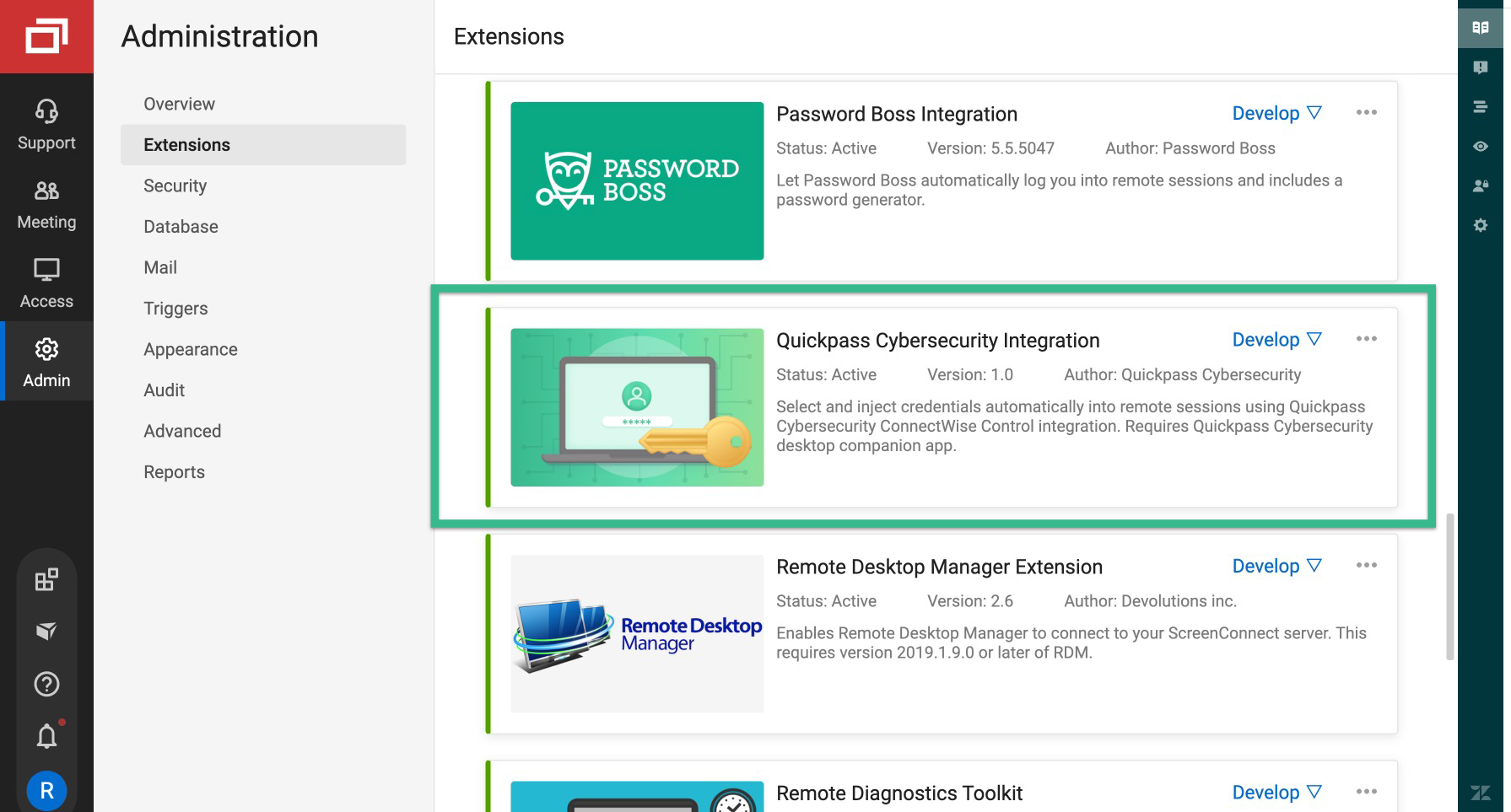 Step 3: Download and install the Quickpass desktop app
Log in to the Quickpass dashboard at https://admin.getquickpass.com (North American Datacenter) or https://eu-admin.getquickpass.com (Europe Datacenter) with either the primary or super login role.
Download the Quickpass desktop app from the customer list page

Install the desktop app. Please make sure you select the right region during the installation


Next: View how to do credential injection using the Quickpass Desktop app